Chicken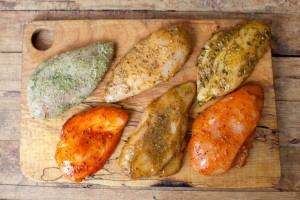 We carry grain fed, locally raised, air chilled, free run and naturally raised chicken. Customer favourites include boneless chicken breasts, with a unique variety of marinated and stuffed options. Ground chicken is available from our freezer. Our marinated chicken kebabs are prepared fresh daily. Try our Flattened (Spatchcock) Chickens – Quick, easy and great on the BBQ!
www.chicken.ca
www.befoodsafe.ca
Mennonite Raised Chickens
Free Run and Naturally Raised in Ontario by fifth generation farmers
100% hormone, antibiotic and drug free
Fed a mix of corn, barley, flax seed and soy (100% animal by-product free)
Omega 3 occurs naturally through their feed
Turkey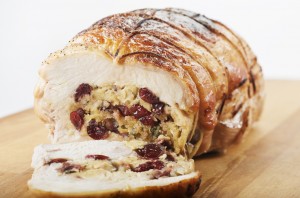 Whole fresh turkeys (seasonal); fresh boneless turkey breasts, (unstuffed, traditional sage stuffing or sage stuffing with cranberries); frozen ground turkey.
Preservative free cooked turkey breast; smoked turkey sausages (heat and serve); turkey meatloaf (frozen and ready to cook).
Brome Lake Duck
Whole, boneless breasts, duck fat, dried and sliced sausage, smoked, dried and sliced breast, foie gras and rillettes
Roast Turkey
2016-03-06 16:44:33
Instructions
It has been our experience that the time it takes to roast a fresh turkey is considerably shorter than that of a frozen one. We urge you to use the 'Test for Doneness' (see below) at the shortest range, as various factors can affect the cooking time (i.e. ratio of bird-to-oven, initial temperature of turkey, varying temperatures in individual ovens). All times are based on a 325°F oven.
Remove turkey from packaging. Remove giblets and neck (save for other uses)
Rinse turkey with cold water ensuring not to forget the neck cavity. Pat dry both cavities and the outside of the turkey.
Tuck wing tips back. Stuff if desired. Do not stuff ahead of time, only just before cooking.
Draw neck skin over stuffing and secure to body, tie legs together or tucked-in position.
Place turkey, breast side up, on a rack in a shallow roasting pan.
For a crispy skin, slip hand between skin and breast and moisten with vegetable oil.
Season with Bloor Meat Market's House Spice or a low sodium seasoning.
Cover loosely with a tin foil tent, shiny side facing inward.
Roast turkey using the roasting instructions below , basting every 30-40 minutes
'Test for Doneness' at the lowest time shown in your turkey's weight range
Remove foil during the last 45 minutes and baste 2-3 more times
Let stand 15 minutes before carving
Roasting Instructions
8lb-12lb - cook unstuffed turkey for: 2 1/4 - 3 1/4 hours and stuffed turkey for: 3 - 4 hours stuffed
12lb-14lb - cook unstuffed turkey for: 3 -3 1/2 hours and stuffed turkey for: 3 1/2- 4 1/2 hours
14lb-20lb - cook unstuffed turkey for: 3 3/4 - 4 1/4 hours and stuffed turkey for: 4 1/2- 5 1/4 hours
20lb-24lb - cook unstuffed turkey for: 4 1/4 - 4 3/4 hours and stuffed turkey for: 5 - 5 1/2 hours
Test for Doneness
If using a meat thermometer, the temperature in the thigh should read 180-200°F. The stuffing should read 165°F. The leg should move easily when gently twisted. The breast meat should feel soft to the touch and the juices should run clear.
Bloor Meat Market http://www.bloormeatmarket.com/