What are you cooking for dinner? We can help you create an exceptional meal with our inspiring menu ideas! Having trouble deciding? Try one of each!
Ready to Cook (RTC) options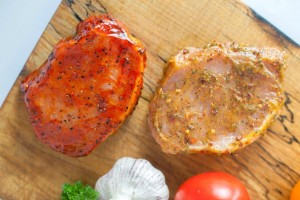 Experience our fully prepared selection of unique marinated or stuffed meat products designed for you to take home and cook yourself. They will not only simplify your meals, but will save you time as well!
Have you tried our well aged rib eye steaks or boneless and skinless chicken breasts? Your taste buds will thank you!

Local Soup Girl soup starters and store made chicken stock
Kebabs – extensive selection prepared daily
Store Made Sausages:
Pork – Sun Dried Tomato, Chorizo, Mexican, Honey & Garlic, Leek, Farmers, Smoky Jalapeño
Lamb – Spicy Merguez, Mediterranean
Burgers-made from our PEI naturally raised beef or try our famous beef and bacon creation. Ground bison patties available frozen
Preservative free cooked roast beef, turkey breast and turkey meatloaf
Beyond the Meat
Made in store chicken stock and all-purpose house spice
Cheese, farm fresh eggs, butter, Cows Creamery premium cheddar cheese and butter (PEI)
Pasta, sauces, marinades, jellies, jams, spices, condiments http://summer-kitchen.com/
Soup starters Soup Girl
Artisanal Italian salami…handcrafted in Caledon, Ontario…in the Italian Tradition.
Specialty Items
Locally raised, Gluten free, Organic
Tourtieres
For the Holidays: Thanksgiving, Christmas, New Year's, Easter. We offer a selection of custom menu options for your traditional meals.
Cooking Instructions